May 19, 2019
Promising Clinical Data from Pilot Study of Gelesis' Novel Hydrogel GS500 Prototype for the Potential Treatment of Chronic Constipation Presented at Digestive Disease Week by Researchers from Massachusetts General Hospital and Brigham and Women's Hospital
Investigational candidate developed by Gelesis demonstrated significant 16 hour reduction in colonic transit time in patients with chronic idiopathic constipation
First clinical study demonstrating super-absorbent hydrogel platform's potential in this common condition
BOSTON, May 19, 2019 — Gelesis, a biotechnology company at the forefront of developing mechanobiology-based therapies to treat chronic diseases related to the gastrointestinal (GI) system, announced the presentation of data from a clinical study demonstrating that GS500 prototype (GS500/CSP01) provided a significant reduction in colonic transit time (CTT) in patients with chronic idiopathic constipation (CIC) relative to placebo. The data were presented at Digestive Disease Week 2019, held in San Diego, California.
"One out of seven adults throughout the world suffer from chronic idiopathic constipation. This condition can have a significant negative impact on quality of life," said Dr. Braden Kuo, Gastrointestinal Unit in the Massachusetts General Hospital (MGH) Department of Medicine. "The safety and efficacy results of this study are intriguing and suggest further clinical evaluation in this very common, treatment resistant condition would be both warranted and welcome."
Gelesis' proprietary hydrogel product candidates are orally administered and synthesized from two naturally derived building blocks – modified cellulose cross-linked with citric acid – that create a three- dimensional matrix designed to achieve specific mechanical properties (high elastic response) through the gastrointestinal system. In order to assess the potential therapeutic benefits of the hydrogel's specific mechanical properties, modified cellulose, the main building block of GS500, was included as an active control. This modified cellulose is a widely used soluble dietary fiber but lacks the three dimensional structure of the superabsorbent hydrogel, and therefore creates significantly lower elastic response.
"The wireless motility capsule monitoring system allowed us to demonstrate that the superabsorbent hydrogel, in contrast to modified cellulose alone or placebo, accelerated colonic transit time," said Dr. Kyle Staller, Center for Neurointestinal Health and Division of Gastroenterology at Harvard-affiliated Massachusetts General Hospital. "This finding suggests that the three-dimensional structure of Gelesis' hydrogel technology and specific elastic response may have contributed to the observed improvements in colonic transit time over the active fiber control in this study."
The primary end-point of this randomized, double-blind study was the change in CTT from pre-treatment to post-treatment as measured by wireless motility capsules. The test involves swallowing a small data recording device which transmits information to a wireless data receiver.
Two populations were evaluated separately, 27 subjects with CIC and 13 subjects with irritable bowel syndrome with constipation (IBS-C). Patients were randomized into three treatment groups to receive 21 days of treatment with either GS500 (n=20), active control (modified cellulose, n=11) or placebo (n=9). Each subject's CTT was measured during the third week of treatment and compared to their baseline, collected during 7 days of pre-treatment. Secondary outcome measures included improvement of relevant gastro intestinal (GI) symptoms.
In the CIC population on treatment, colonic transit time was reduced by approximately 16 hours (~31%) compared to baseline (P=0.02 compared to placebo). No statistically significant change was observed in the placebo or the active control groups. No improvement was observed in the IBS-C population, as well as no change in the reported GI symptoms which were the secondary endpoints. Two randomized patients did not complete the study, one in the treatment group due to a GI related AE, and one in the placebo group due to a faulty monitoring device. No serious adverse events were reported.
This pilot study of 40 subjects was powered to detect improvement in CTT (the primary end-point). Recent data suggest that colonic transit time influences gut health and a longer fecal retention time is associated with CIC symptoms and less microbiome diversity. Further studies are required to assess the effect of Gelesis' hydrogel technology on symptom improvement.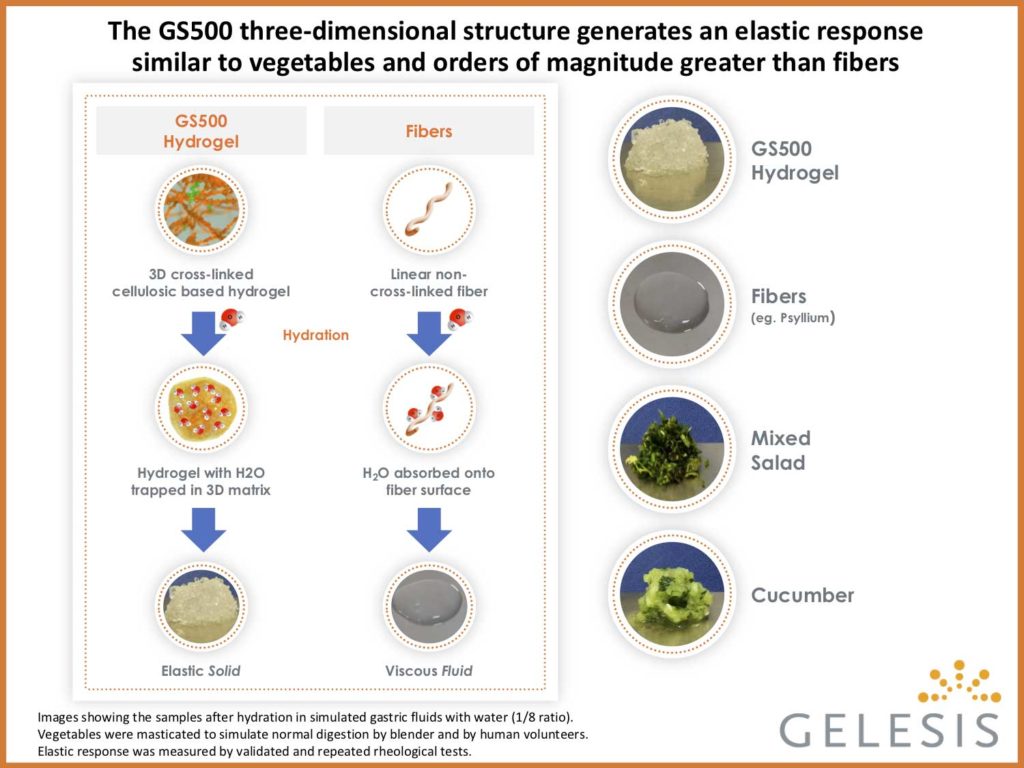 About Chronic Idiopathic Constipation
Chronic idiopathic constipation (CIC) is a common gastrointestinal disorder. Its primary symptom is a low frequency of bowel movements, which can cause significant discomfort and negative impact on quality- of-life. CIC is estimated to affect between 15 and 25 percent of the general population in North America.
About Gelesis
Gelesis is developing a novel hydrogel platform technology to treat overweight and obesity and chronic diseases related to the GI pathway. Gelesis' proprietary approach is designed to act mechanically in the GI pathway to potentially alter the course of chronic diseases. In April 2019, Gelesis received FDA clearance for its lead product candidate, PLENITYTM. Gelesis is preparing to initiate a targeted U.S. launch of PLENITY in the second half of 2019 and anticipates PLENITY will be broadly available by prescription in the U.S. in 2020.
Additionally, Gelesis is developing its second candidate, Gelesis200, a hydrogel optimized for weight loss and glycemic control in patients with type 2 diabetes and prediabetes. Novel hydrogel mechanotherapeutics based on the Gelesis platform technology are also being advanced through a pipeline (GS300, GS400, GS500) in other GI inflammatory conditions where gut barrier and gut permeability potentially play a role, such as non-alcoholic steatohepatitis (NASH) and inflammatory bowel disease (IBD). Recent preclinical data presented this year support the potential role of this novel hydrogel platform technology in restoring gut barrier function and intestinal tissue health.
The Gelesis executive and advisory team includes some of the world's leading experts in obesity, materials science, chronic disease research and commercialization. Gelesis was co-founded by PureTech Health (LSE: PRTC), a biopharmaceutical company focused on the Brain-Immune-Gut (BIG) Axis. For more information, visit gelesis.com or connect with us on Twitter @GelesisInc.
Contact
Kathryn McNeil
+1 347 204 4226
kmcneil@gelesis.com